Network monitoring
Monitoring service ensures centralized control and observation of the main parameters of network and network devices in order to achieve desired level of performance and operational efficiency.
Our network services includes:
monitoring of network parameters;
monitoring of servers (whichever operating system is used);
monitoring of services chosen by you.
Network monitoring ensures the following main benefits:
forecasting and protection against exceeding of network bandwidth limits and its functional characteristics;
detection of servers or hosts that consumes network recourses intensively;
instant detection of network overload induced by malicious code.

Network bandwidth monitoring
Bandwidth monitoring includes diagnostics and analysis of traffic, network connections and network devices (routers, switches, etc.) load. So that network bandwidth monitoring helps to:
receive real-time notifications about problems arising in connection with one or several network nodes load or exceeding its bandwidth limit
be informed timely about network congestion tendencies and network nods that reached bandwidth limit, as well as to receive connections errors reports
measure the real value of bandwidth used
make reasoned decision about how to balance and distribute network traffic and what equipment has to be obtained in order to improve network functionality

Network node traffic control diagram

Firewall monitoring
BS/2 company renders services of monitoring of most routers and fire walls (Cisco, Draytek, Bintec, LANCOM). Also we render services of control of other SNMP protocol based devices.
Sensors "Netflow" that are used to monitor fire walls "CiscoASA" help to receive much more detailed statistics about bandwidth used than SNMP based control does:
connection that are used most intensively;
the most active users;
protocols that are used more frequently;
metering of data transferred between individual host.

This information helps to determine which services or hosts use up the basic recourses of the network and how their usage could affect network performance.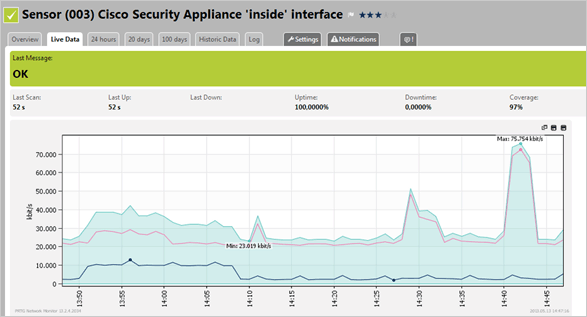 Fire wall physical port availability diagram
Packet analysis
Packet analysis is used to determine and register data flows. Packet analysis helps to detect each packet individually and to analyze its contents on the basis of criteria specified. Packet analysis feature helps to ensure very detailed control of traffic classification and to determine network bandwidth usage by any host or service.

Packet analysis diagram that helps technical staff to determine and prevent attack or malicious actions on time
Resources usage monitoring helps to identify the cause of network bandwidth exceeding posed by not the whole system breakdown but by specific users or services. Resources usage analysis analyses your network traffic and provides detailed information about activity and load. The results of that control could be presented as overall bandwidth report (of port or switch) or distributed by protocols.
By configuring ratings we could find out which hosts or services use up the main part of network bandwidth and to receive the following information:
the most active users
connection that are used most intensively
lists of protocols that are used more frequently.


Monitoring of server and network non-failure operating time
Availability monitoring helps to determine the nodes that could pose the problems in future, thus helping to balance and distribute the loads. The service includes:
network devices (routers, switches, servers, etc.) availability checking
bandwidth usage and data transferred to/from server monitoring

Example of creation interface of sensors that helps to check performance of required services