During the last 20 years BS/2's specialists have gained a great deal of experience in the field of banking technologies since starting out in this area; therefore, they are very familiar with the processes which take place in financial institutions and are able to consult on management of different business processes.
Our consultants will provide help with the following topics:
Compliance with international IT security standards (PCI DSS, PA-DSS, EMV, ISO27001);
Creation of IT strategy
IT security (creating IT security policy, classification and control of information assets, security requirements for staff, fisical - security and systems controlling logical access, management of technological and operational security)
Business continuity and recovery activities for emergencies
Improvement of IT processes management
Project management
Risk management
Incident management
Software licene management
Software change management
Assessement of the quality of data stored in information systems
We can provide audit of all the above topics and processes and evaluation of internal control of the organization, establish weaknesses and make recommendations for improvement.
PCI Security Standards Consultancy services
PCI DSS is a multifaceted security standard that includes requirements for security management, policies, procedures, network architecture, software design and other critical protective measures. This comprehensive standard is intended to help organizations proactively protect customer account data.
We help organizations to achieve compliance to PCI DSS in the most efficient and cost effective manner. Whether it is a straightforward GAP assessment of client's current position against the PCI DSS standard, or organization needs support all the way through to audit, BS/2 will help to achieve the compliance.
BS/2 consultancy services structured around the key PCI DSS requirements:
Build and maintain a secure network
Protect cardholder data
Maintain a vulnerability management program
Implement strong access control measures
Regularly monitor and test networks
Maintain an Information Security policy
Audit by a Qualified Security Assessor
BS/2 gives particular attention to information security companies such as banks, insurance companies, government organizations, etc. BS/2 together with Aggrit and A/S FortConsult security consultants, highly qualified specialists in the field of information technology and information security, provides a PCI DSS certification service. Over the past 8 years working in the field of security testing and auditing our specialists have already evaluated PCI in more than 100 companies at various levels: procurers, issuers, service providers and merchants.
BS/2 PCI DSS consulting services include
BS/2 can ensure that customers' decisions are enforced and can demonstrate to auditors that risks related to payment card data are properly controlled.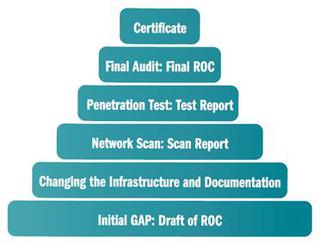 Process of PCI DSS certification
EMV
Nowadays the migration from magnetic stripe cards to chip cards faces many issues and challenges and the requirements are being constantly updated. The consultants of BS/2 monitor changes in these EMV standard requirements and are ready to give valuable consultations before and during audit.
The aim of our consultancy services is to define the EMV standard implementation strategy and to offer guidelines on how to migrate from Visa and MasterCard Magnetic card to Chip card.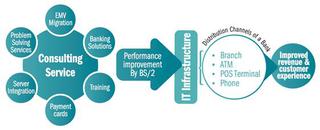 With our professional consultations, banking solutions configuration and integration - we will make the Bank services highly secure, flexible and rewarding. The bank will guarantee liability and zero fraud to its users while allowing its customers to express themselves and choose applications to satisfy their life style.
BS/2 offers consulting services to organizations interested in familiarizing with the migration impact and to define a plan to evolve towards EMV standard.
EMV Implementation process and BS/2 services:
EMV foundation training - First, we explore the client's knowledge of the EMV standard. Upon request, provide detailed information about the emerging EMV standard and its benefits.
ATM to server integration - we examine and analyze the servers used in the bank. If the bank doesn't have the required servers for implementation of the EMV standard, we are prepared to provide and integrate it.
EMV implementation in Bank environment – at this stage of EMV implementation in the bank environment, there are special forms and instructions for banks to make a migration from Visa and MasterCard magnetic cards to chip cards. We offer full installation services for the EMV standard. However, if the bank has specialists who are able to implement the EMV standard in the bank environment, then BS/2 can provide assistance in the form of on-site or remote consultation.
Certification of VISA or/and MasterCard – certification by the bank, we offer consultancy and support on preparation stage as well as during certification process.
Problem solving – For a 2 month period after EMV implementation, our specialists may be contracted free of charge to resolve EVM standard implementation problems.
BS/2 specialists are able to leverage there vast experience and flexible solutions to meet the needs of any financial institution.
Branch, network optimization and automation
Branch Optimization Consultations
During the economic collapse with banks limited budget and capital, it is necessary to make effective branch placement and investment decisions. By choosing us, you will have a universal consulting, solution and integration partner at your side that will provide you with skilled support in implementing your branch project successfully.
We provide consultations that are based on intelligent consulting system to optimize bank branches – Branch Optimizer. It is a full-function customer service automation system, designed to reduce costs and increase the efficiency of personnel and the division as a whole. Our experts give customers an easy-to-understand presentation about the current status of division load and performance identifies the problematic areas and at the same time suggests the best solutions.
BS/2 bank branch optimizing consulting experts will:
support you in branch restructuring projects
identify and analyze the current state of a branch
simulate potential branch scenarios
show the impact of restructuring measures on staff, self-service, costs and profits
identify current areas of action
ascertain optimal deployment of resources (staff and self-service) at a branch
accelerate decision-making processes for the optimal branch concept
give planning certainty for restructuring your branches
help you in your investment planning
We allow the customer to look at the effect of the suggested changes before they are implemented.
No trial is needed to determine what effect the changes would have if actually applied. You will be able to use "what-if" scenarios to examine the impact of business decisions or changes in the trading environment before they occur.
We work with different scenarios several times and analyze their impact on branch operations. In this way it is possible to analyze the changes and identify the actions that needed to be taken until you will be able to choose the most efficient and acceptable solution.
Branch design optimization
Bank design should be based upon an in-depth understanding of customer needs and expectations and should reflect the character of the bank's brand and the community that it serves. Today, there are three major trends in branch design: new sales possibilities, automation and optimization.
This can be implemented via means of a Self Service Branch, working on a round-the-clock basis, where the client could be provided with the entire range of banking services (withdraw cash and deposit cash, wire transfers, payment for different services and products).
It will allow you to:
focus the attention on your clients
maximize area and convenience for clients
provide services requested by clients
easily and quickly redirect and extend the range of provided services
assure safety of clients and bank assets
painless transfer of the "old clients" to the non-traditional servicing methods
A Self Service Branch transforms a bank department from an office with boring clerks and a doorplate "Working hours between 9:00 and 17:00" into a place with an interesting design and friendly interface, providing services on a 24h/7/365 basis. It changes the opinion about the role of the office in the process of client servicing and recruitment: the department becomes a place where the bank meets its clients; clients meet other clients, as well as a place for spending the spare time - with a coffee machine, comfortable armchair and the possibility to settle all "banking" issues!
This client's transfer from the cashier's office to self-service terminals will let you:
lower expenditures, related to the maintenance of the cashier's office
maximize the usage of bank's areas
additional opportunities to sell the banking services
flexibility in the establishment of new services
an opportunity to introduce and sell services that are not related directly with the banking activity
possibility to attract new bank clients