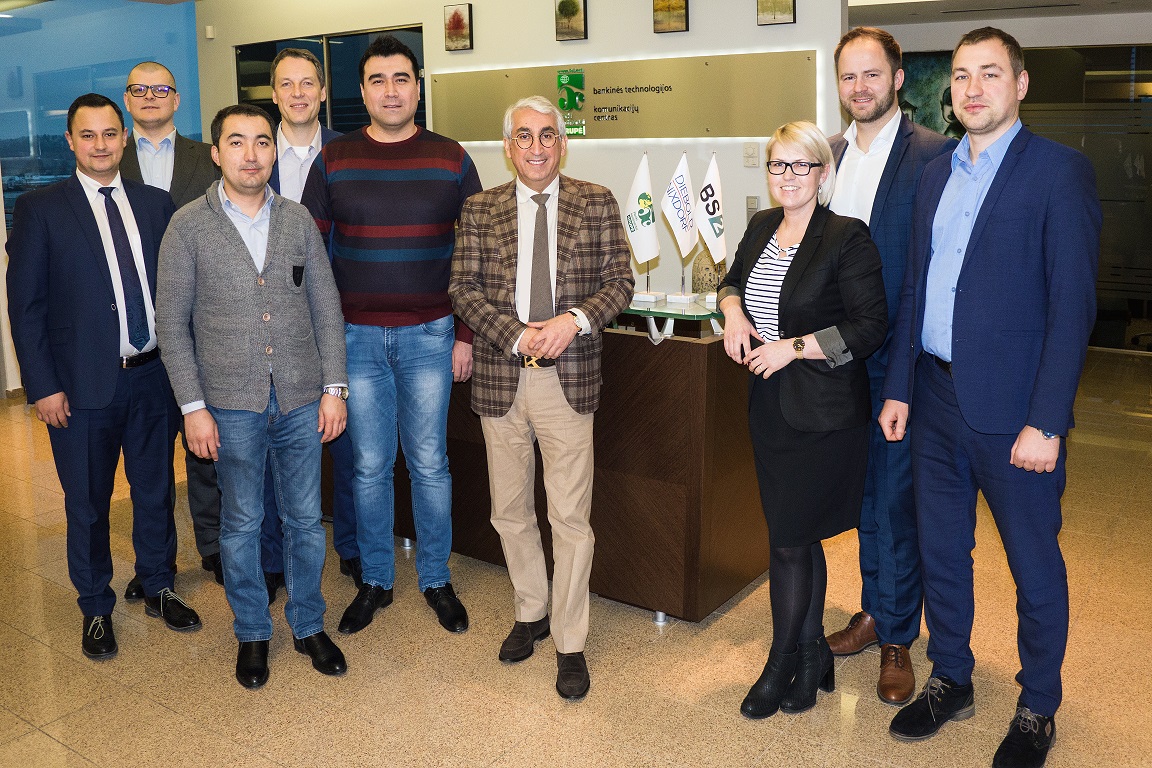 From the left to the right: Emil Musayev (BS/2), Dominykas Mertinas (Ashburn International), Farrukhjon Nigmatov (CRPC), Žoržas Šarafanovičius (ASHBURN International), Ahror Makhmudov (CRPC), Idrakas Dadašovas (Penki kontinentai group), Anna Pankraz (Diebold Nixdorf), Anton Valinčius ir Tomas Augucevičius (BS/2).
Uzbekistan has always been one of the priority activities of the Penki kontinentai group. During the recent visit of the Uzbekistan Common Republican Processing Center (CRPC) Director Ahror Makhmudov and Deputy Director Farrukhjon Nigmatov to the Penki kontinentai head office in Vilnius, the guests were introduced to innovative software solutions developed by the BS/2 and ASHBURN International member companies.
The main objectives of CRPC include targeted promotion of advanced banking information technologies and electronic payment instruments to the Uzbek financial market. CRPC is also responsible for the data security and other related functions, including for the nationwide UZCARD payment system processing.
Uzbekistan actively invests in the infrastructure of electronic settlements and expands the possibility of carrying out card payments. Only in the first three quarters of 2017 the total amount of electronic settlements amounted to €18 billion, which is 228.4% more compared to the same period of the previous year.
The BS/2 Deputy General Director Tomas Augucevičius introduces the CRPC top managers the multifunctional .iQ family software solutions developed by BS/2 designed for optimizing complex business processes (Service Desk.iQ), cash flow management (Cash Management.iQ) or automation of the cashier's workplace (Smart Safe.iQ) In his turn, ASHBURN International Executive Director Žoržas Šarafanovičius introduced them the TransLink.iQ solution for processing transactions and managing EFT POS networks.
The EECA sales manager of the world-famous banking equipment manufacturer Diebold Nixdorf, Anna Pankraz introduced guests from Uzbekistan with the latest technological solutions developed by Diebold Nixdorf company.
During the visit, cooperation prospects were discussed, and experiences in the development of banking technologies were shared. BS/2 is actively supporting business relations with Uzbekistan's largest banks, providing them ATM sales and maintenance services through its local subsidiary, LLC BS/2 Uzbekistan.