Penkių kontinentų bankinės technologijos (BS/2) and VisionLabs plan to create a line of banking authentication services with the aim to significantly increase the level of security and reduce the risks associated with fraudulent activities at ATMs.
As Alexander Khanin, CEO and founder of VisionLabs, which specializes in computer vision systems, says, their cooperation with BS/2 is an important step in the further development of their leading LUNA platform. "Our partner has deep industry expertise and long experience, which allows us to create a product that meets the current market requirements," he noted.
Mr. Khanin visited the BS/2 head office in Vilnius recently, and answered several questions: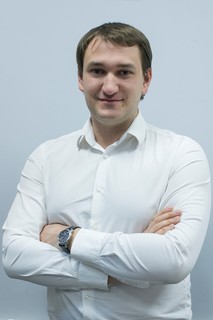 Speaking about the LUNA platform created by VisionLabs, how it differs from other products in the world market? Where is it used?
Face recognition becomes the basic function of not only smartphones, but also door phones and many other devices. We can say that biometrics have reached such a level of its development that it surpasses in its capabilities – and even in quality – the specially trained people, doing the work faster and more reliably. Therefore, we try to provide our customers (that are large businesses, banks, retailers) with solutions that would exclude the negative human factor aspects, in order to optimize business processes. Biometrics are a very good tool.
The main difference of our platform is that LUNA is the only system of such high recognition quality. At the same time, it does not come in the form of some technology, or a set of algorithms, but as a single platform – and a ready-made industrial product for the financial sector (which remains for us the main thing), as well as retail and security. We already have clients in Japan, China, Indonesia, the USA and Europe.

The New Year is coming soon. Most likely, you have already determined the strategic directions of work for the next year. Where are you going to move? What are the priorities of your activities?
We plan to add new elements of biometrics to our platform, that is, we will have support for the venous palm image, as well as the voice recognition function. We will not work on those technologies ourselves; we will just add new features to it. We also plan to engage in multimodality and update the platform with regard to the current requirements – making it as accessible to customers as possible.
Face recognition technology alone is not enough today. When performing certain operations, for example, if the bank wants to use only one platform, both in offices and in call centers, where cannot be any faces, and then voice is used for authentication. We are already starting to work on such projects.
What can you say about cooperation with BS/2?
This is my first time in Lithuania, but I feel that there are many opportunities for business here. From my experience, I can say that customers are not looking for any technologies: they need a ready-made solution for their business. They do not care how we solve problems on countering fraud or, conversely, increasing the availability and quality of banking customer service. That is why, together with BS/2, we have created standard solutions that we will submit to our clients, check our hypotheses and, I am sure, commercialize some of them. In other words, the main task of our cooperation is the creation of solutions for specific business tasks.
LUNA which is a biometric data management system for facial verification and identification, is now widely used in banks and national credit bureaus in Russia and CIS countries, including Sberbank, which recently bought 25.07% of VisionLabs' shares.